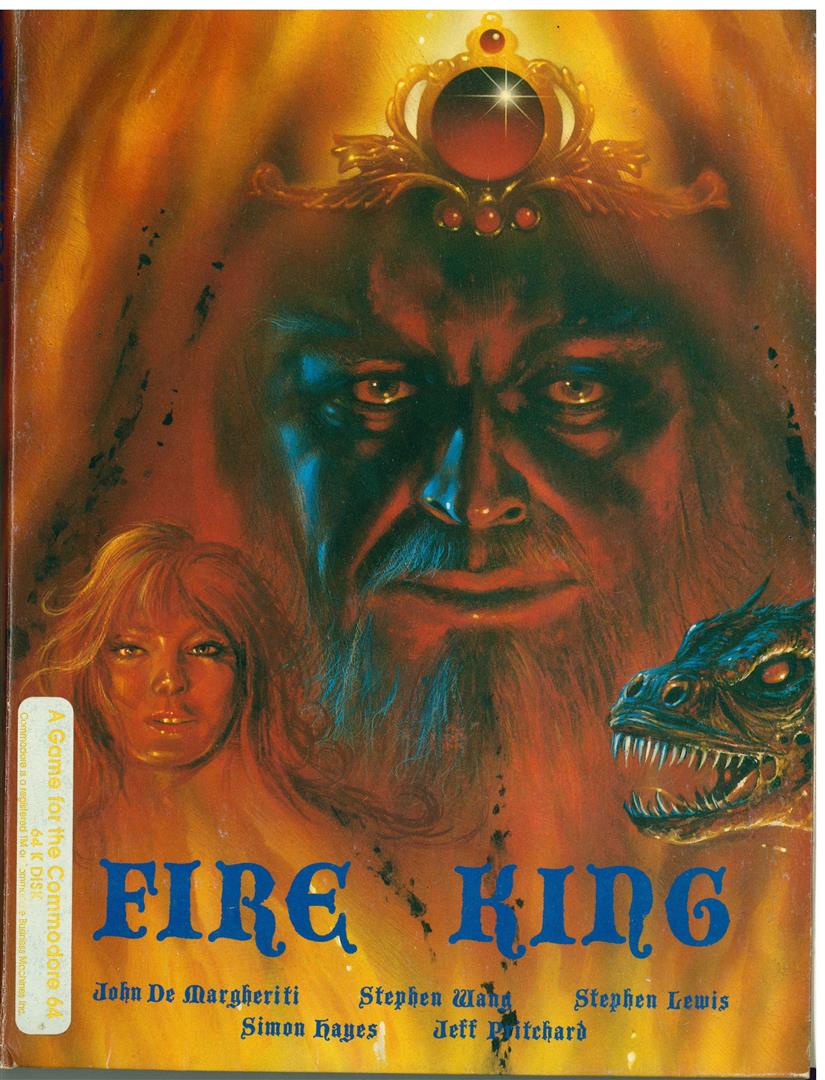 "Fire King" is an action role-playing video game.  It was developed by Micro Forte and distributed by SSG in 1988 for the Commodore 64/128 and DOS. It was sequel to Micro Forte's adventure game of the same style "Demon Stalkers: The Raid on Doomfane".  "Fire King" has been compared to Gauntlet, with its top-down view and endless enemies spawning from monster generators, but differs in that it contains more plot and puzzles than the typical hack and slash game.
The player becomes one of six characters, first appearing in a room above the town square of the town in Stormhaven Bay. The harmony of the land is controlled by the great elemental forces of Earth, Air, Fire, and Water, each controlled by a mage. The Fire Mage was king until he was slain by a magical beast of superhuman strength and size. Although this monster was slain, another magical beast appeared and began to dine on villagers. New enemies roam the countryside, leaving it to the player characters to confront the beast in the catacombs and end the terror.
Lemon64 have an emulator for the Codewheel
"Fire King" was advertised at the end credits of "Demon Stalkers" as "coming soon". A worthy sequel to "Demon Stalkers" it is fondly remembered by players as a game that offered more engaging  challenges to the player than simple hack and slash. Whilst "Demon Stalkers" had the advantage of EA's publishing machine to push the game in North America, following the legal case with Atari regarding "Demon Stalkers" resemblance to "Gauntlet", EA choose not to publish "Fire King".  Local Australian publishers SSG published "Fire King " a game they described as an "excellent" but their distribution was focused on a more specialized wargames market and they did not have the reach of EA. Well reviewed "Fire King" never found the audience it deserved.
Jeff Prichard who worked on "Fire King" at Micro Forte felt the games sales were also affected by Commodore 64 being superseded by a new generation of computers. he explains "I wasn't involved in the development of Demon Stalkers so can't tell you much about it other than it had a big following. Sadly, Fire King came too late in the C64 era and wasn't distributed by EA."  Source – Comments Fire King – Micro Forte commodore 64 game gameplay video (MadCommodore).
Music, Producer, Programming